SEALSON S-PLORATION SERIES
Discovering hidden sceneries of

 

Formosa.
-
Vol.3: SCM Lightweight Alpine Backpack Test Ride - The Jiali Mountain Trails


-
Today we'll be sharing moments documented from our
SCM
test ride back in March, when the development of the SCM had finally entered its testing stages, we took the prototypes from downtown Taipei into the ravines of Fengmei Creek in Mt. Jiali for a final spin.

During this test ride, we focused on stress-testing the SCM's load carriage system. To ensure there was enough time & opportunity for testing, we set up a two-day basecamp along the riverbeds and explored the neighboring sites.
-

Along the hike, we zeroed in on analyzing weight distribution, comfortability,¸, breathability and carriage for different body types under alpine movement scenarios & covering varying terrains like muddy forest tracks, rock-strewn sills, boulder-mounted gorges and upstream routes.
-

Apart from our team's clinical inspections, we have also invited Outdoor Cafe founder LMC & Taiwan Alpine specialist Chang Kai Yue to join forces on our quest for the ultimate carriage performance.
-

Outdoor Cafe founder LMC (@lmcisnotdead)
-

Taiwan Alpine Specialist & Model Chang Kai Yue (@shiroyaro)
-
Through this outdoor examination, we have gained significant knowledge for design improvement as well as practical data for enhancing the SCM's carriage system.
For adjustments & the finalized carriage system design, we will be sharing the details with you in another Sealson Lab Series article.
-
-


P'anoh - Tales from the heights of Mt. Jiali.
Located between Miaoli's Nanzhuang & Tai'an Township, Mount Jiali sits at 2,220 meters and is one of the main peaks of the Jiali Mountain range. Its luscious physiognomy and summits that gazed on the Holy ridgelines of Mount Xue made it a must-visit for many alpine enthusiasts. What was once the breeding ground for Taiwanese Sika Deers & numerous indigenous species had been replaced by railways & timber mills brought in during Taiwan's Great Logging Era. All that is left now are distant names & industrial ruins forgotten in tribal tongues & old geological contours.
-
Approximately 65 million years ago, the collision between the Eurasian & Philippine Sea Plate gave birth to a mountainous island that provided a safe haven for wild beasts & towering timberlands. On this island that we call Taiwan in modern days, Mt. Jiali was once the land of abundance for indigenous tribes & the great wilderness, and was called P'anoh, meaning the land of deers or the land of flat terrain.
-
The Tseole tribe of Taiwanese Indegenous Atayal People lived in harmony with Mother Nature for many years on P'anoh, but the occurrence of the Nanzhuang Incident in 1902 brought conflict into this land of peace—with the exploitation in camphor farming and unfair land reclamation treaties carried out by the Japanese colonial government, the SaySiyat people & the Atayal people bravely stood up against their oppressors on Mount Jiali to defend their rights.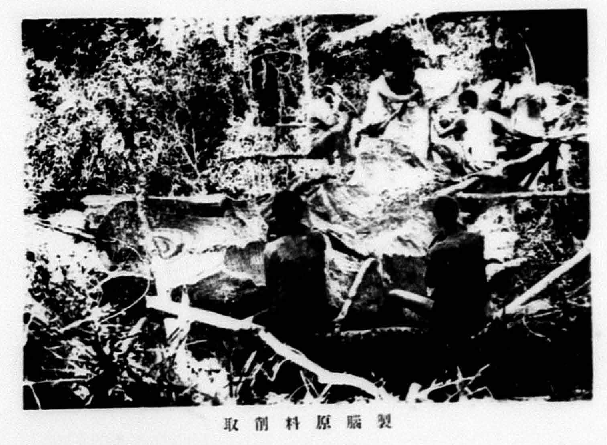 Japanese-controlled Camphor Farming in production.
Taiwan was known as the Camphor Empire during the Japanese Colonial Era.
-
Yet the primitive civilization and native deer herds stood no chance against the Blood-and-Iron fueled "progressive modernization" of the colonizers, and in 1913, there were no more traces of them ever to be seen in the woods of Mt. Jiali.
Aftermath of the Nanzhuang Incident: The Nanzhuang Police Outpost left in ruins.
-
As rapid industrialization crept into the mountains, Taiwan had officially entered the Great Logging Era. Since 1958, the annual timber volume mass had surpassed 1 million cubic meters. Monotonous artificial woodlands took over diverse native species, and it was not until 1991 did the great timbering come to a halt, but the woodlands have long been irreversibly deformed. So if you ever get the chance to trek on the railway ruins on Mount Jiali, we hope you take your time to appreciate the great outdoors, and remember the deer-trodden fields of P'anoh.

Written by @yk6jo6
Translated by @laichiahan
-
More photos captured from our test ride below.
-
-
-
-
-
-